Sealcoating Asphalt | Driveway Sealer | Sealcoat | Blacktop Sealer
SealMaster manufactures a full line of sealcoating technologies for asphalt and blacktop. Professional pavement maintenance contractors look to SealMaster more than any other brand of sealcoating when it's time to sealcoat. Whether you are in need of a driveway sealer or sealcoating materials for parking lots, SealMaster will exceed your requirements. From roads and streets to all other types of asphalt and blacktop paving, SealMaster is the #1 Name in Pavement Sealer and Asphalt Sealer.
Call (800) 395-7325 for the SealMaster nearest you!
PMCTS Pavement Sealer – Asphalt and Blacktop Sealcoating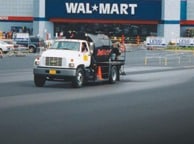 Premium quality coal tar emulsion sealcoat fortified with cross-linking rubber polymers. Meets sealcoating requirements for numerous FAA specifications.
Downloads:
SDS (PDF)
Spec Sheet (PDF)
Coal Tar Pavement Sealer – Asphalt and Blacktop Sealcoating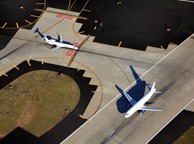 A coal tar based pavement sealcoat designed for sealcoating, protecting and beautifying all types of asphalt and blacktop driveways, parking lots and more. Provides superior fuel resistance.