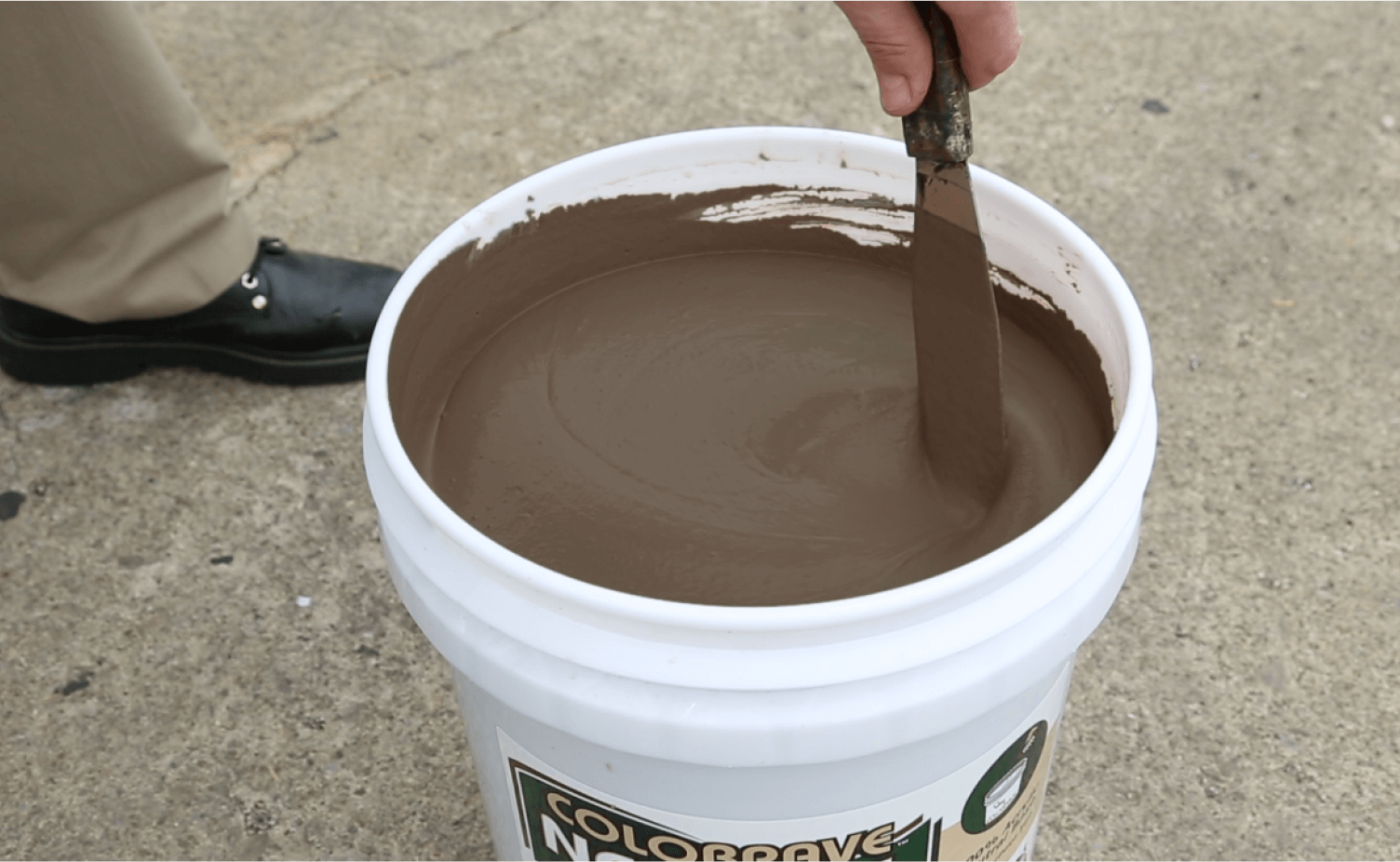 ColorPave Neutral Ready-Mix
Asphalt Color and Blacktop Color Paving Sealcoat
ColorPave Neutral Ready-Mix is a 100% acrylic water based emulsion designed as a pavement color coating. ColorPave is fortified with sand for slip resistance. ColorPave is supplied in a neutral color designed to be mixed with ColorPlus Pigment Dispersion to achieve desired color.
Fortified with Sand for Maximum Durability
Description
ColorPave beautifies and protects asphalt pavement surfaces including driveways, parking lots, walkways, golf cart paths, bike/jogging trails, amusement parks, basketball courts, and more. The durable, textured coating provides an ideal surface for driveways that double as a basketball court, or any multipurpose areas where asphalt color is desired.
The acrylic-based formula of ColorPave can be used as an asphalt driveway paint, but not on areas that have been sealcoated with a coal tar or asphalt based coating. ColorPave Ready-Mix comes pre-mixed with silica sand to fill voids in asphalt and provide a safe, non-skid area where blacktop paint or asphalt color is needed.
Coverage
Apply ColorPave at a rate of .13 to .15 gallon per square yard (60-70 square feet per gallon) per coat. Two coats are recommended for optimum performance. One pail will cover approximately 240-280 square feet per coat.
ColorPave Neutral Ready-Mix is designed to be mixed with ColorPlus™.
Surface Preparation
Surface must be clean from all oils, grease, loose material, dirt, and dust. Pavement surface repairs should be made with a suitable hot or cold asphalt mix. Cracks should be filled with SealMaster or SportMaster acrylic base crack filling products. DO NOT USE HOT APPLIED CRACK FILLING MATERIALS.
Mixing Procedures
Add one pint of ColorPlus Pigment Dispersion to one 5-gallon pail (approx. 4-gallons) of ColorPave Neutral Ready-Mix. Mix thoroughly until Tint is completely dispersed into the Neutral Base. If needed, a small amount of water may be added to facilitate application.
Application
ColorPave shall be applied by squeegee, brush, roller, or specialized textured spray equipment.
Important
Be sure to use OSHA approved respirator when applying this product. Temperatures must be above 50°F both during application and for a period of at least 24 hours after application. Do not apply when rain is imminent or forecast.
Clean Up
Wash tools in water before material dries.
| | |
| --- | --- |
| Unit Size | Unit Weight |
| 5 Gallon Pail | 56 lbs. |