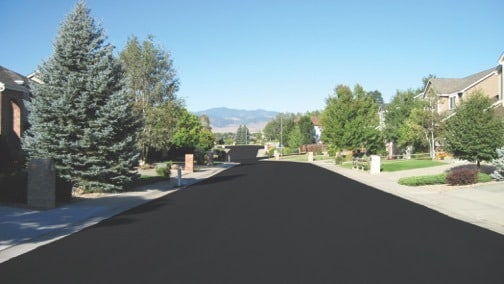 Liquid Road
Asphalt Based Pavement Coating
Liquid Road is a high performance mineral and fiber reinforced asphalt emulsion blended with polymers and special surfactants for superior adhesion, flexibility, and durability.
Features
Extends the service life of pavement.
Replaces the pavement binder that is lost through oxidation.
Provides a rich black color that helps to melt snow and ice.
Protects pavement from oxidation, UV rays, and moisture intrusion.
The Smart Choice for Pavement Preservation
Sizes Available
5 Gallon Pail, 55 gallon Drum, Bulk
Colors Available
Black
* Colors may vary slightly from actual product.
Coverage
One gallon of Liquid Road will cover approximately 55-66 square feet (6 to 7.5 square yards) per coat when mixed and applied.
NOTE: Coverage rate may vary due to pavement age, porosity, and method or application.
Description
Liquid Road replenishes the binder that is lost through oxidation and weathering, while providing a slip resistant durable surface treatment. Liquid Road's deep, rich black color gives old, oxidized pavement a "like new" surface that melts snow and ice faster, and reduces cleaning and maintenance costs.
Protects and Renews Pavement
The ultimate coating system for roads, streets, & other pavement surfaces
Surface Preparation
Surface must be cleaned entirely of loose material and dirt. Pavement surface repairs should be made with a suitable hot or cold asphalt mix. Cracks should be filled with CrackMaster hot pour sealant or SealMaster cold-applied sealant.
Mixing Procedures
For optimum results Liquid Road™ shall be mixed in accordance with the following mix design (based on 100 gallons for ease of calculation):
Liquid Road™ – 100 gallons
Aggregate (20-30 mesh AFS) – 400 lbs.
NOTE: If required, a small amount of water may be added to facilitate application of the sand slurry mix
Application
For optimum performance and durability apply two coats of properly mixed Liquid Road.
Important
Temperatures must be above 50°F both during application and for a period of at least 24 hours after application. Do not apply when rain is imminent or forecast.
Clean Up
Wash tools in water before material dries.
| | |
| --- | --- |
| Unit Size | Unit Weight |
| 5 Gallon Pail | 53 lbs. |
| 55 Gallon Drum | 590 lbs. |
Learn More About
Liquid Road Ultra
Factory Blended with sand added