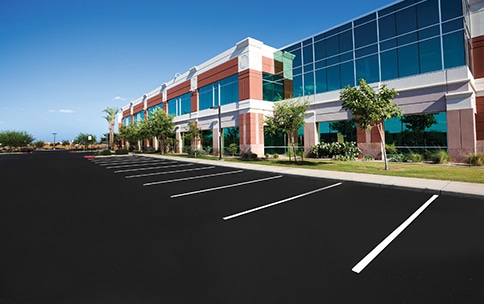 MasterSeal Ultra Pavement Sealer
Asphalt and Blacktop Sealcoating
MasterSeal Ultra is ideal for protecting and beautifying all types of pavement surfaces including parking lots, shopping malls, airports, driveways, roadways and more.
Ultra Advantages
Spend time on the jobsite "applying sealer" rather than "mixing sealer"
Avoid injuries from lifting heavy sand bags
Ultra is a better sealer – higher solids and faster drying
Coverage
One gallon of MasterSeal Ultra will cover approximately 70 – 82 square feet per gallon per coat (7.75 – 9.1 square yards per gallon per coat).
NOTE: Coverage rate may vary due to pavement age, porosity, and method or application.
Colors Available
Black
* Colors may vary slightly from actual product.
Description
MasterSeal Ultra Pavement Sealer is a clay-stabilized, asphalt emulsion pavement sealer designed to protect and beautify asphalt pavement. MasterSeal Ultra is a ready to apply material that is factory blended with water, aggregate and polymer, providing a highly durable slip-resistant coating.
Surface Preparation
Surface must be clean and free from loose material and dirt. Cracks should be filled with SealMaster Cold or Hot-Applied Crack Filling Materials. Oil stains should be cleaned and primed with SealMaster Oil Spot Primer.
Mixing Procedures
Mix MasterSeal Ultra thoroughly before applying. If needed, a small amount of water may be added to facilitate application.
Application
For optimum performance and durability apply a minimum of two coats of MasterSeal Ultra. A third coat may be applied to high traffic areas such as parking lot entrances, exits and drive lanes for added durability. Allow each coat to dry thoroughly before applying successive coats. Allow final coat to dry for 24 hours prior to opening to vehicle traffic.
Important
Temperatures must be above 50°F both during application and for a period of at least 24 hours after application. Do not apply when rain is imminent or forecast.
Clean Up
Wash tools in water before material dries.