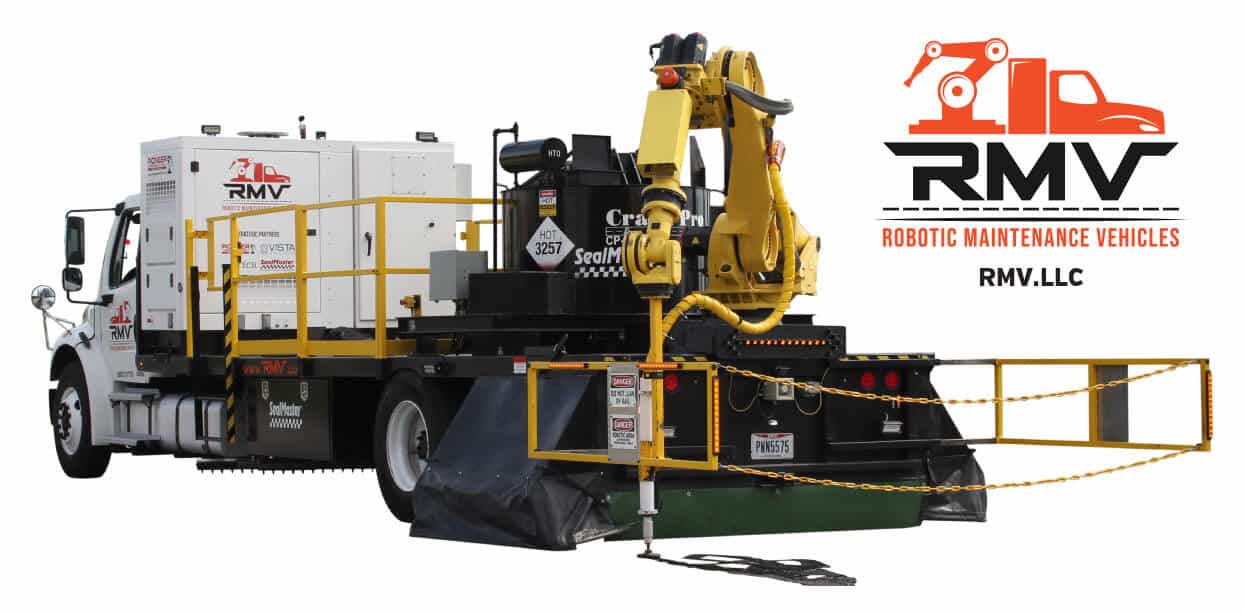 SealMaster has announced it will feature the CrackPro® Robotic Maintenance Vehicle (RMV) at CONEXPO Booth C32315.  The robotic crack sealing vehicle features a full truck chassis, equipped with a six-axis FANUC R2000iC / 165 robot; 480V / 3ph / 18kw / 23 amp Stateline generator; VISTA Advanced AI Vision Software equipped with cameras and lasers; 15HP Turbine, 12-foot integrated air nozzle blower system; custom 260-gallon Crack Pro Melter / Applicator with heated hose; LED safety lights; and rear safety cage, which alerts drivers to keep a safe distance.
Safety and Efficiency
Minimizing labor and keeping crew members off the road, the Crack Pro RMV requires just one operator, who remains in the cab while a robotic arm guides a crack sealing wand and precisely dispenses material. Traditional crack sealing equipment requires at least three to four crew members, with all except a driver positioned on the road during the work.
In addition to reducing labor and enhancing safety, the CrackPro RMV conserves material and money. "It makes precise decisions, runs at a consistent speed, and can cover three shifts a day with fewer people," says RMV Representative Tyler Roth. RMV is a division of Pioneer Industrial Systems, which specializes in producing automated and robotic manufacturing solutions.
The AI vision system measures and scans cracks, the flow of crack sealant, and communicates with the robotic arm. The arm guides the wand and shoe of the heated hose to dispense crack sealant, after the automated blower system cleans cracks to prepare for sealing.
Awards
The CrackPro RMV earned Pioneer Industrial Systems the Fanuc America 2022 Innovative System of the Year Award, and the 2021 AFWERX Flightline of the Future Challenge for Airfield Maintenance and Repair. Fanuc is a leading global supplier of robots.  AFWERX is an innovation arm of the Department of the Air Force, supporting both the U.S. Air Force and U.S. Space Force.
SealMaster will also display its:
Crack Pro 125 Melter / Applicator with dual heated hoses;
TR 575 SprayMaster sealer application unit with Pro Air system;
300-gallon Mastic Machine;
TR 300 Heated Asphalt Distributor; and
R1 Aggregate Chip Spreader.
To request a demonstration, call 800-395-7325, email chale@sealmaster.net, or click "contact us" at SealMaster.net and submit the online form with your contact information.

About SealMaster
SealMaster, the nation's One-Stop Source for pavement maintenance and sport surfacing products and equipment, is the world's leading manufacturer of pavement sealer with more than 100 locations in the United States, including Puerto Rico; licensed manufacturing in China and Mexico; and distribution in more than 50 countries. In addition to pavement sealer, the company distributes pavement crack sealants and repair materials, traffic paints, dust suppressants, tools, accessories and equipment to apply all the materials. The company maintains its industry leadership consistently introducing high-performance, innovative pavement sealer formulations and state-of-the-art manufacturing technologies. Pavement maintenance professionals, property managers and owners, municipalities and others charged with pavement maintenance use SealMaster products and equipment to protect, preserve and beautify asphalt and concrete pavement. For more information, visit sealmaster.net.
About RMV
Robotic Maintenance Vehicles began with a concept from Pioneer Industrial Systems to provide safer work zones for our nation's highway maintenance crews. The concern was recognized by the president of PIS, when he noticed how dangerous crack sealing and other basic road maintenance tasks are. To bring this concept to life, RMV has integrated an R2000 onto a truck chassis, equipped with components that create a more efficient form of work. RMV performs faster and more accurate maintenance, reducing the amount of equipment and labor needed, conserving material and money, and keeping roadworkers out of harm's way.