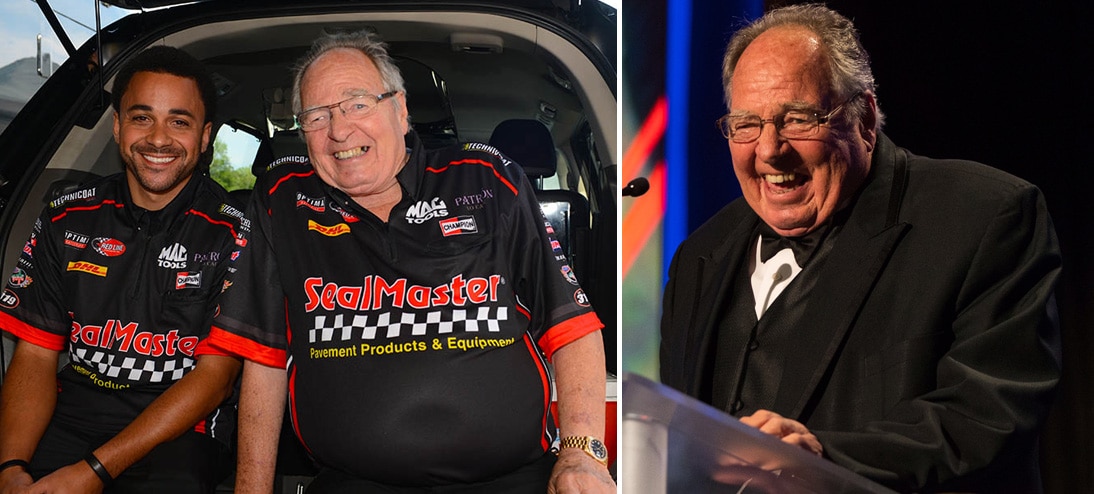 SealMaster Crew Chief and Kalitta Motorsports founder and owner Connie Kalitta was honored last night at the season-ending Mello Yello Awards banquet with NHRA's Lifetime Achievement Award. This is the first time in NHRA history that this award has been given. 
Kalitta's honor received the first standing ovation of the evening as NHRA President Peter Clifford addressed the crowd with some of Kalitta's incredible achievements. A video tribute followed with all four of Kalitta's current full-time drivers: Alexis DeJoria, Doug Kalitta, J.R. Todd and Del Worsham, team Vice-President of Operations Jim Oberhofer, NHRA legends Don Prudhomme and Tom McEwen, and rival team owners John Force and Don Schumacher speaking on what Kalitta meant to the sport and how far reaching his impact has truly been.
Escorted to the stage by Oberhofer, nephew Doug Kalitta and grandson Corey Kalitta, son of the late Scott Kalitta, Connie Kalitta recieved his one-of-a-kind trophy and made remarks.
"I am not usually at a loss for words," said Kalitta. "Thank you for this. I appreciate everything that each of you said in that piece. I am honored to receive such an award."
Kalitta, known as "The Bounty Hunter" as a driver, was the first racer to reach the 200 mph mark at an NHRA sanctioned event. He was inducted into the Motorsports Hall of Fame of America in 1992 and won the U.S. Nationals in 1994. On NHRA's 50th anniversary in 2001, he was named one of the NHRA's Top 50 Drivers.
His team, Kalitta Motorsports, ended 2016 with their most successful season on record as Team Kalitta's four full-time teams earned a combined 131 round wins. Kalitta will continue to have a major part of the NHRA for many years to come as his team expands to six entries beginning in the 2017 season with rookie driver Troy Coughlin Jr. and veteran Paul Lee joining Team Kalitta on a part-time basis to compete alongside DeJoria, Kalitta, Todd and Worsham.