Sealcoating Equipment | Sealcoat Spray Tanks | Sealcoat Spray Equipment | Sealcoating Tanks | Sealcoat Spray Systems | Truck Mounted Sealcoating Machines
SealMaster truck mounted sealcoat tanks set the industry standard for truck mount sealcoat spray applicator tanks. SealMaster truck mounted sealcoat spray units are available in several sizes with many options to choose from. SealMaster sealer spray units are designed to mix and apply pavement sealers with and without sand added. SealMaster truck mount sealcoat spray systems have set the sealcoating equipment industry standards for quality, performance and durability for over 40 years.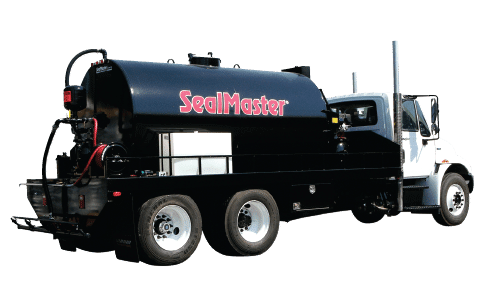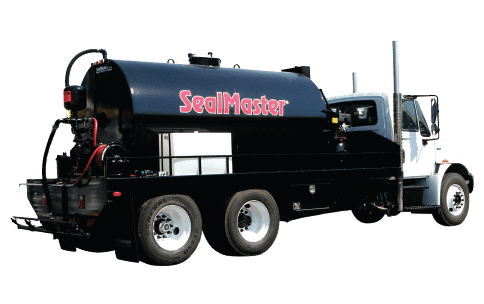 Custom Truck Mounted Sealcoat Spray Equipment
Featuring SprayMaster Sealcoat Spray Tanks
Custom Truck Mounting consists of fabricating a flatbed with fenders onto a truck chassis. The SprayMaster Tank Unit is then custom mounted to the flatbed.
Custom Truck Mounting Begins with the selection of a SprayMaster Tank with one of the following Material Pump Systems:

Pro Air System (1 ½-inch outlet air-driven material pump)
Maxx Air System (2- inch outlet air-driven material pump)
SandPumper II (2-inch outlet hydraulically-driven material pump)
Custom Truck Sizing Optional Features:
Tool Box: Metal tool box with door and latch. Can be fabricated onto both sides of truck for added storage
Hydraulic Spray Bar Kit: Recommended for SandPumper II units only – 10 ft. spray width (cab operated)
Air Operated Spray Bar: For air systems only – 10 ft. spray width (cab operated)
Manual Spray Bar: (includes seat and mounting components) Recommended for Maxx Air System, Standard Air System, and SandPumper II units – 10 ft. spray width
Lever – Manual spray bar
8′ Squeegee Drag Box Assembly
10′ Squeegee Drag Box Assembly
Liquid Road Extendable Drag Box
Rear Operator Platform: Strongly recommended for use with spray bar
Electric Hose Reel: Returns spray hose automatically
Hand Operated Hose Reel
Reese Style Tube Hitch: Includes pintle eye and 2″ ball hitch
The following is a guideline for Truck/SprayMaster Tank sizing:
| | | | |
| --- | --- | --- | --- |
| Tank Size (Gallons) | Payload (Pounds) | Cab to Axle Min. | Cab to Axle Preferred |
| 575 | 10,000 | 85″ | 90″ |
| 750 | 13,000 | 85″ | 90″ |
| 1,000 | 17,000 | 85″ | 90″ |
| 1,500 | 24,000 | 126″ | 131″ |
| 2,000 | 32,000 | 156″ | 161″ |