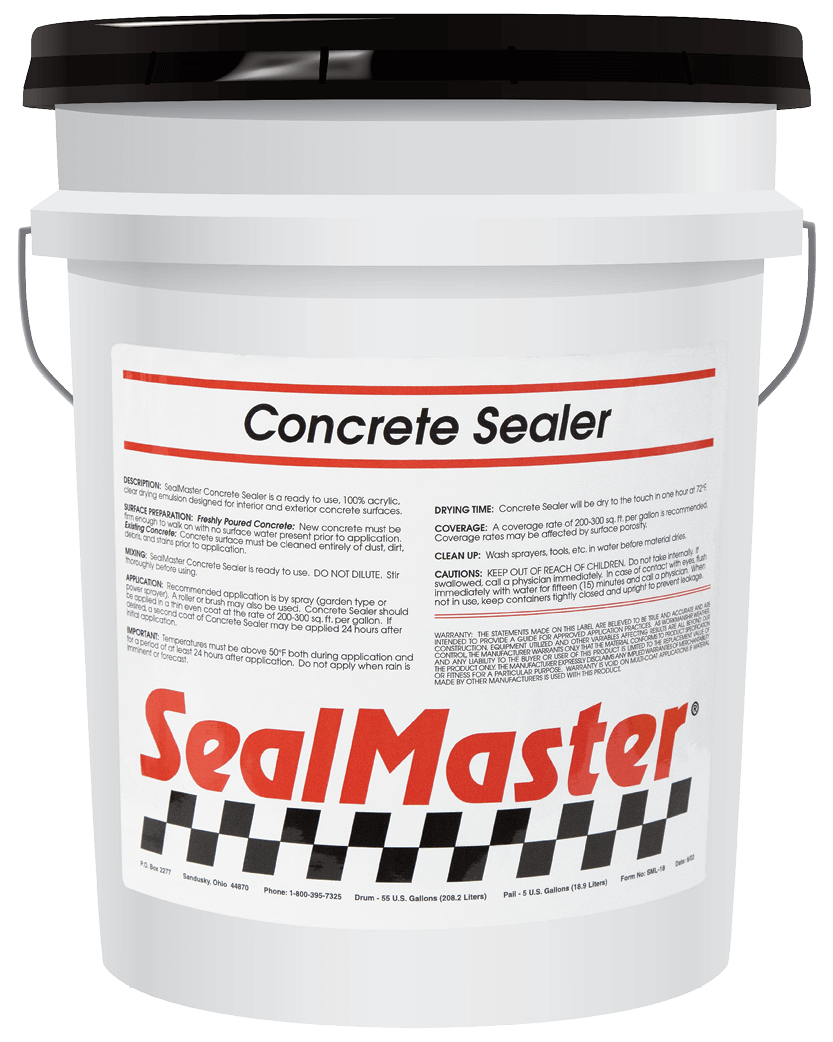 Concrete Sealer
100% Acrylic Water-Based Emulsion
SealMaster Concrete Sealer is a ready to use, 100% acrylic, clear drying emulsion designed for interior and exterior concrete surfaces.
Sizes Available
5 Gallon Pail, 55 Gallon Drum, Bulk
Coverage
A coverage rate of 200 sq. ft. per gallon is recommended. Coverage rates may be affected by surface porosity.
Description
A 100% acrylic water based clear drying emulsion designed to seal and protect concrete against water, salt, and oil damage. Resists blushing when exposed to moisture or rainfall. For interior or exterior use. Apply by spray, lambswool applicator, or roller.
Surface Preparation
Freshly Poured Concrete: New concrete must be firm enough to walk on with no surface water present prior to application.
Existing Concrete: Concrete surface must be cleaned entirely of dust, dirt, debris, and stains prior to application.
Mixing Procedures
SealMaster Concrete Sealer is ready to use. DO NOT DILUTE. Stir thoroughly before using.
Application
Recommended application is by spray (garden type or power sprayer). A roller or brush may also be used. Concrete Sealer should be applied in a thin even coat at the rate of 200-300 sq. ft. per gallon. If desired, a second coat of Concrete Sealer may be applied 24 hours after initial application.
Important
Temperatures must be above 50°F both during application and for a period of at least 24 hours after application. Do not apply when rain is imminent or forecast.
Clean Up
Wash sprayers, tools, etc. in water before material dries.
| | |
| --- | --- |
| Unit Size | Unit Weight |
| 5 Gallon Pail | 55 lbs. |
| 55 Gallon Drum | 580 lbs. |