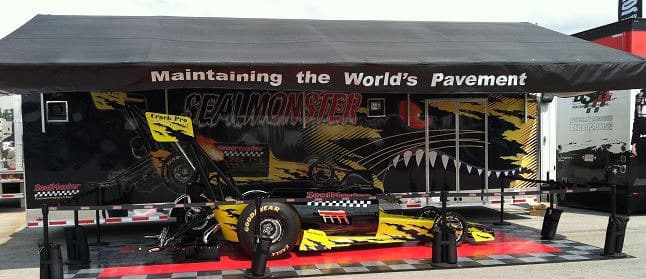 Pavement maintenance is hard work. Whether you're a contractor or you work for a contractor or public works department, you sweat through long, hot days and take pride in a job well done. As part of SealMaster's sponsorship of the NHRA, we're not only promoting the SealMaster brand, we're advocating the importance of timely pavement maintenance and professional application by qualified contractors.
While the SealMonster is an actual working dragster, SealMaster commissioned its construction to pay tribute to thousands upon thousands of sealcoaters coast to coast. It's billed as the fastest sealcoating machine on the planet and features a replica tank, which houses the engine, a spray bar and a squeegee. "We work in a big industry," says Rick Simon, SealMaster director of franchise operations. "The world doesn't realize how many people work in pavement maintenance because we have so many independent contractors, along with all of the people who do this work as municipal employees."
When we take the SealMonster on tour, our signage advises: "Be sure to ask for SealMaster!" and provides a toll-free phone number to locate contractors who use SealMaster products and equipment. We refer these calls to SealMaster franchises, which recommend contractors who work in the local area.