Durability, efficiency and ease of use make SealMaster's all-diesel powered CrackPro Heated Hose Melter/Applicators a favorite among road crews and other pavement maintenance professionals""and a winning product among trade authorities overall.
Feedback from asphalt construction equipment owners and end users, and factors "including longevity and consistency in the market, dependability, productivity and innovation" garnered the CrackPro an Asphalt Contractor 2014 Top 30 Editor's Choice Award. "To gauge the audience's preferences, we also factored in how much interest these products received on the Buyers Guide at ForConstructionPros.com/Asphalt," states correspondence from Publisher Amy Schwandt and Editor Lisa Cleaver.
Available with multiple tank capacities, the line of CrackPro Melter/Applicators comes with the option of a 100 CFM air compressor""the industry's largest""to thoroughly clean cracks quickly and efficiently. The CrackPro also leads the industry with the longest air hose (100 feet) on a heated hose melter/applicator.
"I've been in business 15 years and I've used probably every crack filling machine out there," says Bob Roth, who with partner Justin Bishop owns Asphalt Solutions in Youngstown, Ohio. "The simplicity is refreshing," Roth adds. "The CrackPro is so easy to use and it's so easy to get to everything. We can get in and get out, do a top-quality job, and that keeps our customers coming back and referring us to others." The pavement maintenance and construction firm serves commercial property owners and managers throughout the eastern United States.
Unparalleled heating and recovery time
Last year SealMaster increased the size of the CrackPro heating unit by 30 percent, delivering the industry's fastest heating and recovery time of all machines in its class. The CrackPro's oil-jacketed melter/applicators render ready-to-apply material in one hour, and the heated hose eliminates the need to flush for cleanup. "By the time we're done cleaning cracks, our material is ready to go," says Roth.
With both the burner and engine powered by diesel fuel, the CrackPro Heated Hose machine is designed for maximum safety, efficiency and performance. It's also fabricated with heavy gauge steel and heavy duty components to withstand the rigors of everyday use in the field, providing for years of reliable performance.
Safety and efficiency
With the lowest profile of machines of its type, the CrackPro Melter/Applicator gives the operator a full view over and around the equipment to readily identify any road or parking lot hazards. Additionally, an automatic horn trigger on the applicator wand lets the operator easily signal the driver for next moves and warnings. The CrackPro's lightweight hose and wand also features full 360-degree swivel to reduce operator fatigue.
All CrackPro Heated Hose machines feature 1.5-inch, high-temperature ceramic insulation enclosed by a 16-gauage steel outer body; an anti-splash material loading hatch for safer material loading; electro-hydraulic manifold with flow control for pump and mixer speeds; diesel-fired Beckett burners electronically controlled with auto shutoff; electronic thermostat; direct-drive forward and reverse sweep agitation; and a digital control center with protective cover and breakers, including an AC gauge to monitor electric hose heat. Liquid cooled 14.5 and 21.5 HP are standard, while DA models (with air compressor) feature a 33.5 HP Kubota engine.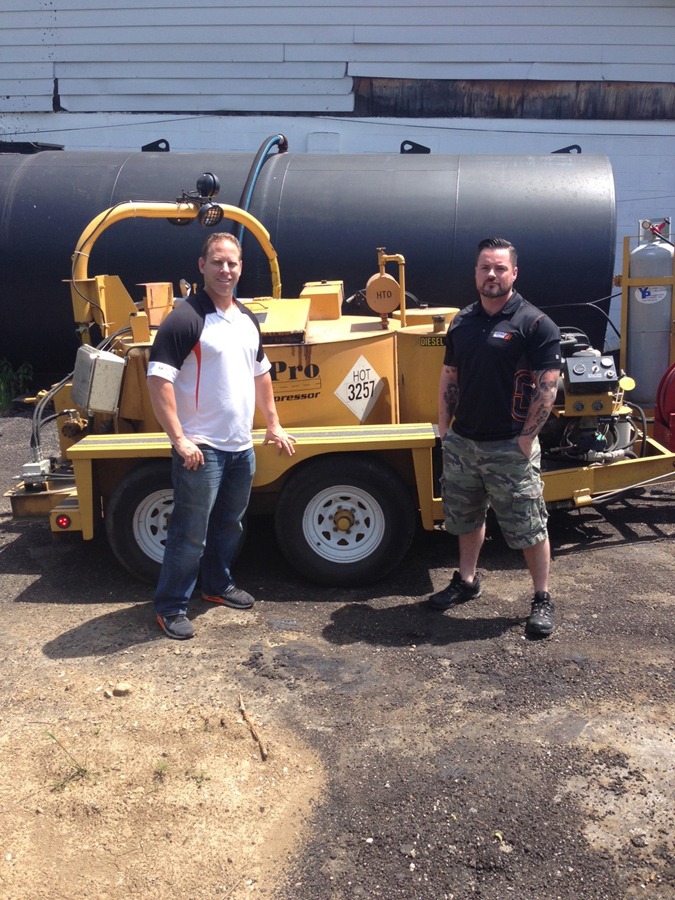 Photo caption: Bob Roth (left) and Justin Bishop of Asphalt Solutions, based in Ohio, say SealMaster's CrackPro DA is the most efficient crack filling machine they've used in their 15 years of business. The equipment is engineered for easy operation and top-quality results. Its features also improve job site safety and maximize efficiency.