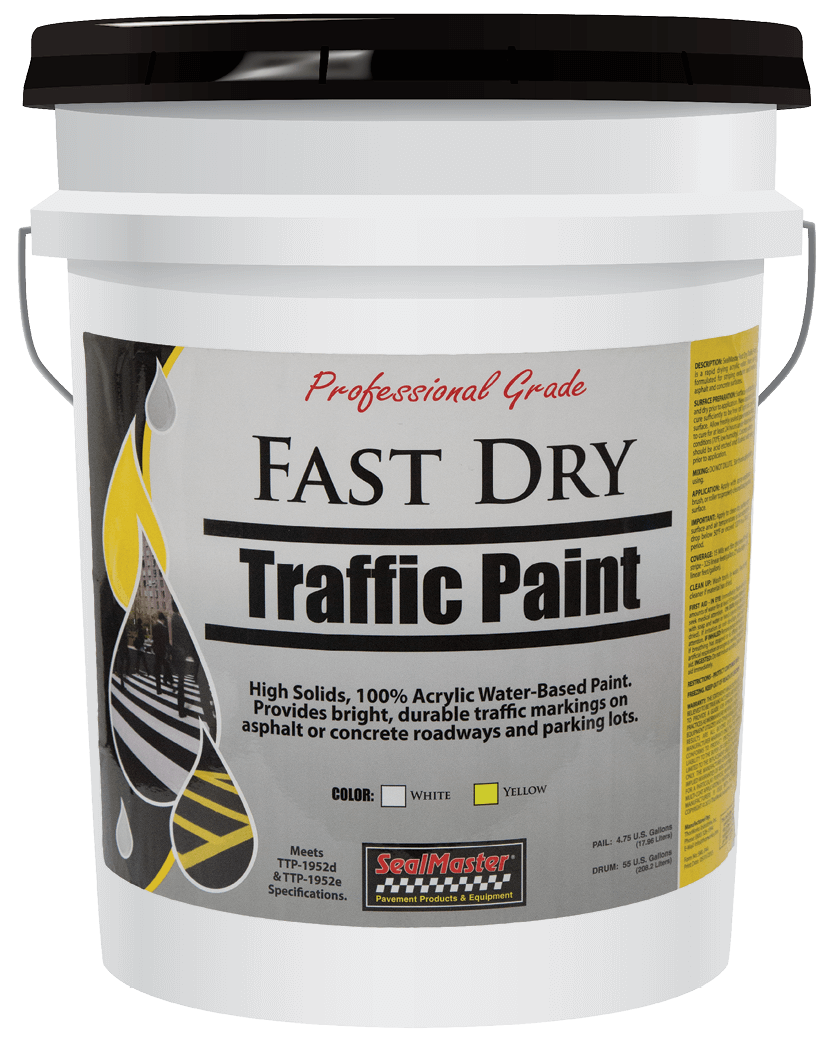 High solids 100% acrylic traffic paint. Dries in less than 5 minutes. Available in white and yellow. Meets TTP-1952D and TTP-1952E.
Sizes Available
5 Gallon Pail, 55 Gallon Drum
Coverage
15 Mils wet film thickness (4″ wide stripe – 325 linear feet/gallon; 2″ wide stripe – 650 linear feet/gallon).
Colors Available

* Colors may vary slightly from actual product.
Description
SealMaster Fast Dry Traffic Paint is a rapid drying acrylic water base paint formulated for striping exterior and interior asphalt and concrete surfaces.
Surface Preparation
Surface must be clean and dry prior to application. New asphalt should cure sufficiently to be free of light oils on the surface. Allow freshly sealed pavement surfaces to cure for at least 24 hours under ideal weather conditions (70°F, low humidity). Concrete surfaces should be acid etched and flushed with water prior to application.
Mixing Procedures
Stir thoroughly before using. Use as is. Thinning with water should not be required.
Application
Apply with spray equipment, brush, or roller to properly cleaned and prepared surface.
Important
Apply to clean dry surface when surface and air temperature is not expected to drop below 50°F or exceed 120°F in a 24 hour period.
Clean Up
Wash tools in water before material dries.
| | |
| --- | --- |
| Unit Size | Unit Weight |
| 5 Gallon Pail | 72 lbs. |
| 55 Gallon Drum | 800 lbs. |