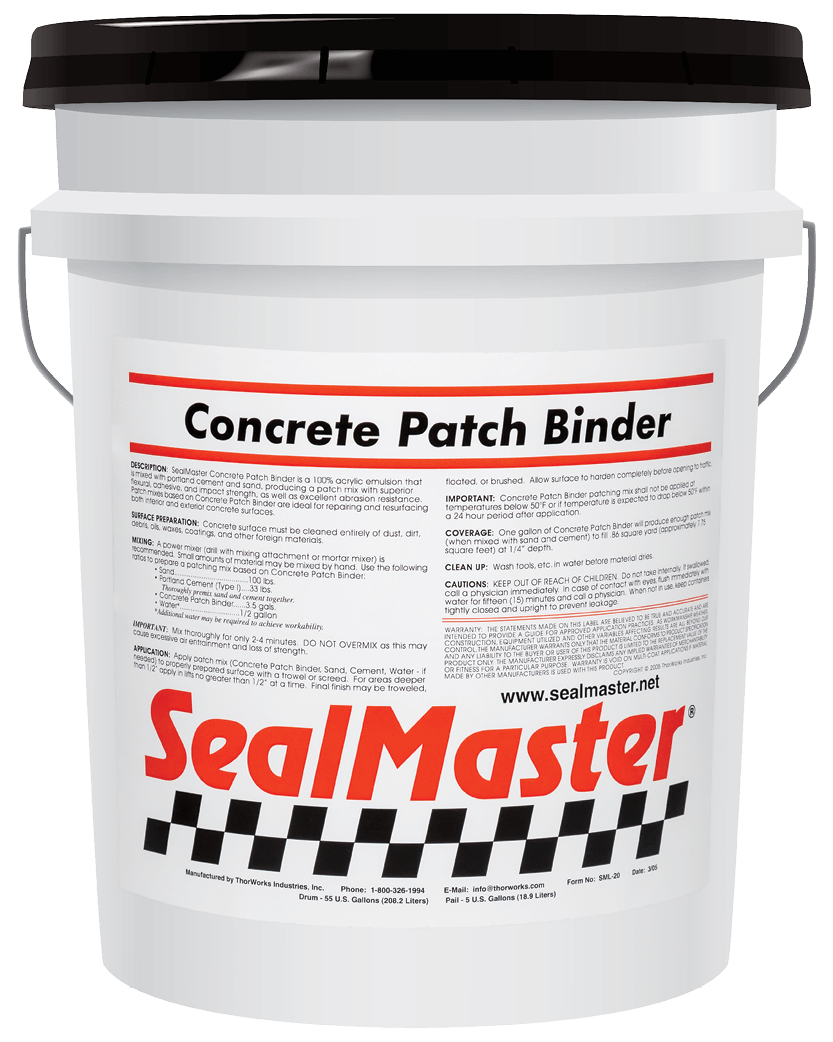 Concrete Patch Binder
Liquid Acrylic Binding Agent for Sand and Cement Mixes
SealMaster Concrete Patch Binder is a 100% acrylic emulsion that is mixed with portland cement and sand, producing a patch mix with superior flexural, adhesive, and impact strength, as well as excellent abrasion resistance.
Sizes Available
5 Gallon Pail, 55 Gallon Drum, Bulk
Coverage
One gallon of Concrete Patch Binder will produce enough patch mix (when mixed with sand and cement) to fill .86 square yard (approximately 7.75 square feet) at 1/4″ depth.
Description
A 100% acrylic emulsion designed for mixing with sand and cement. Ideal for repairing damaged, spalled, and cracked concrete surfaces. Exhibits outstanding strength for lasting repairs up to 1/2″ deep. Patch mixes based on Concrete Patch Binder are ideal for repairing and resurfacing both interior and exterior concrete surfaces.
Surface Preparation
Concrete surface must be cleaned entirely of dust, dirt, debris, oils, waxes, coatings, and other foreign materials.
Mixing Procedures
A power mixer (drill with mixing attachment or mortar mixer) is recommended. Small amounts of material may be mixed by hand. Use the following ratios to prepare a patching mix based on Concrete Patch Binder:
Sand – 100 lbs.
Portland Cement (Type I) – 33 lbs.
Thoroughly premix sand & cement together.
Concrete Patch Binder – 3.5 gals.
Water – 1/2 gallon
*Additional water may be required to achieve workability.
Application
Apply patch mix (Concrete Patch Binder, Sand, Cement, Water – if needed) to properly prepared surface with a trowel or screed. For areas deeper than 1/2″ apply in lifts no greater than 1/2″ at a time. Final finish may be troweled, floated, or brushed. Allow surface to harden completely before opening to traffic.
Important
Temperatures must be above 50°F both during application and for a period of at least 24 hours after application. Do not apply when rain is imminent or forecast.
Clean Up
Wash tools in water before material dries.
| | |
| --- | --- |
| Unit Size | Unit Weight |
| 5 Gallon Pail | 47 lbs. |
| 55 Gallon Drum | 525 lbs. |