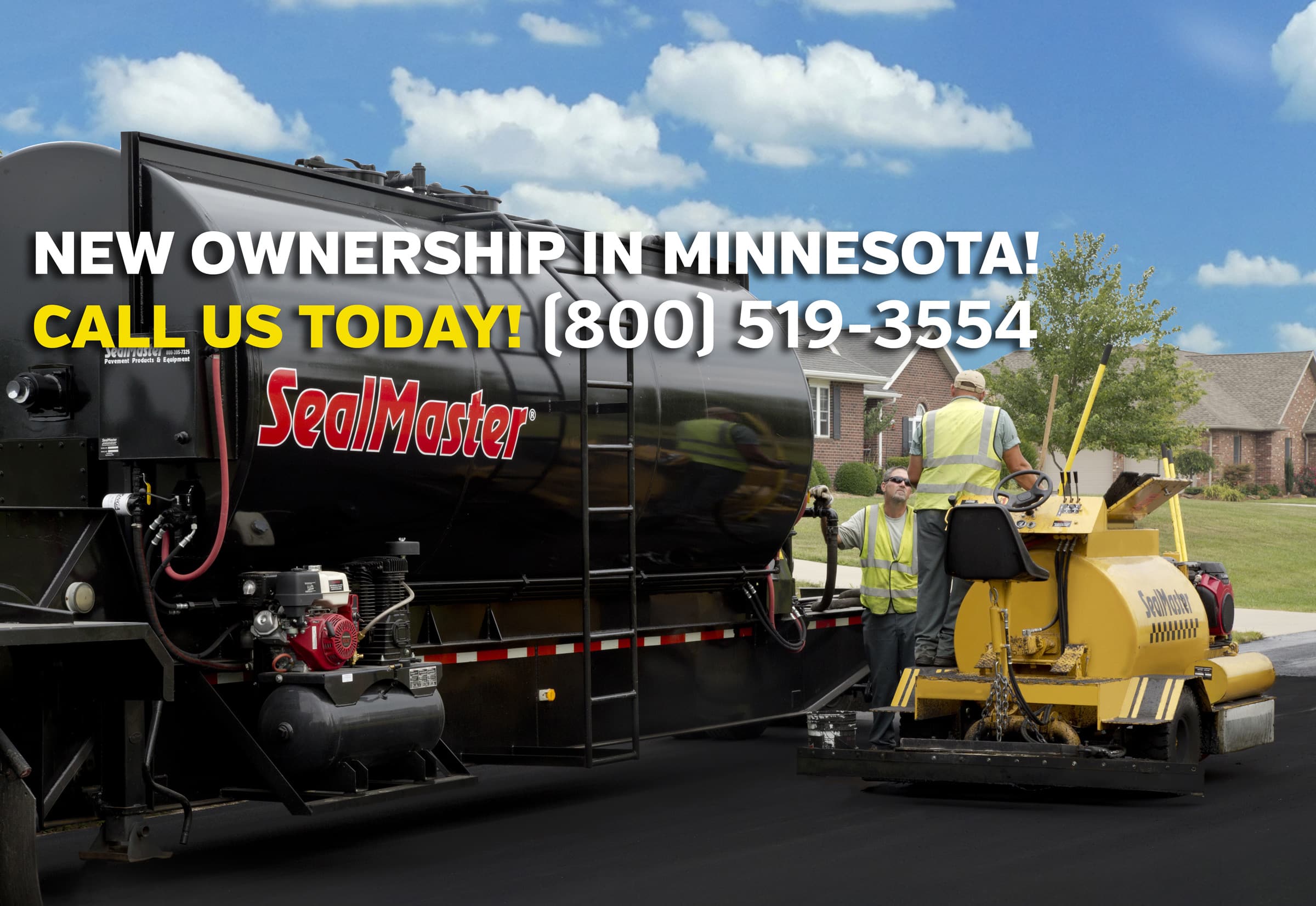 SealMaster is pleased to announce new ownership of the Minneapolis, Minn., franchise territory, which will supply the entire state of Minnesota. Jay Pakalski, who has owned a successful SealMaster franchise based near Milwaukee, Wisc., for 20 years, will source the state. "Minnesota is an awesome market," he says. "I want to invest in the state and repeat the success we've had in Wisconsin," which he attributes to operating "with the highest standards."
With more than 100 privately owned locations nationwide, SealMaster manufactures pavement sealers and distributes a full line of pavement maintenance products and equipment, including crack sealants, pavement repair materials, traffic paints, dust suppressants, tools, accessories, sport surfacing products, and machines to apply all the materials. The brand is widely known for introducing franchising to pavement maintenance sourcing in the early 1990s by standardizing quality, support, services and practices that "transformed an ugly duckling industry into a swan," according to Pavement Maintenance & Reconstruction magazine.
While new physical locations are being established, SealMaster is fulfilling orders from Pakalski's Wisconsin operations. "I have the capacity and inventory to get customers what they need when they need it," Pakalski says. "We're taking orders for sealer and everything else from contractors and road maintenance crews." He asserts the franchise will help meet Minnesota's need for a robust supply of pavement maintenance and preservation products and equipment.
A distribution center and product showroom is set to open this summer. A manufacturing plant is scheduled to open in early 2018. Pakalski's sons, Jack and Max, grew up in the business and will play integral roles in the new venture. Max, the eldest, is on board to oversee operations until the franchise is fully staffed and trained. "I've been doing this for 20 years," Pakalski says of SealMaster franchise ownership. "Bringing the best of the brand to Minnesota is even more exciting than the day I started, because now that my sons are grown, we're doing this together."
The demand for pavement maintenance supplies and equipment continues to grow as private and public entities have shifted focus to pavement preservation vs. a previous approach of repair and replace. Pavement is among many public and private property owners' largest capital assets.
Rick Simon, the SealMaster franchise system's director of franchise operations, says market demand has a number of SealMaster franchise owners building additions, establishing additional distribution points, and opening more showrooms. The company has announced no more than 10 new U.S. manufacturing franchise opportunities are available in Washington, Oregon, Nevada, Montana, the Dakotas, Nebraska, Arkansas, Louisiana and California. Opportunities for distribution franchises are available in Wyoming, West Virginia, and New England.
For more information, to request a catalog, or to place an order with SealMaster, call 800-519-3554. Information is also available at SealMaster.net. Business addresses will be announced when sites are secured.
ABOUT SEALMASTER
SealMaster, the nation's One-Stop Source for pavement maintenance products and equipment, is the world's leading manufacturer of pavement sealer with more than 100 locations in the United States, including Puerto Rico; licensed manufacturing in Canada, China, and Mexico; and distribution in more than 50 countries. In addition to pavement sealer, the company distributes pavement crack sealants and repair materials, traffic paints, dust suppressants, tools, accessories, sport surfacing products, and machines to apply all the materials. The company maintains its industry leadership consistently introducing high-performance, innovative pavement sealer formulations and state-of-the-art manufacturing technologies. Pavement maintenance professionals, property managers and owners, municipalities and others charged with pavement maintenance use SealMaster products and equipment to protect, preserve and beautify asphalt and concrete pavement. For more information, visit sealmaster.net.