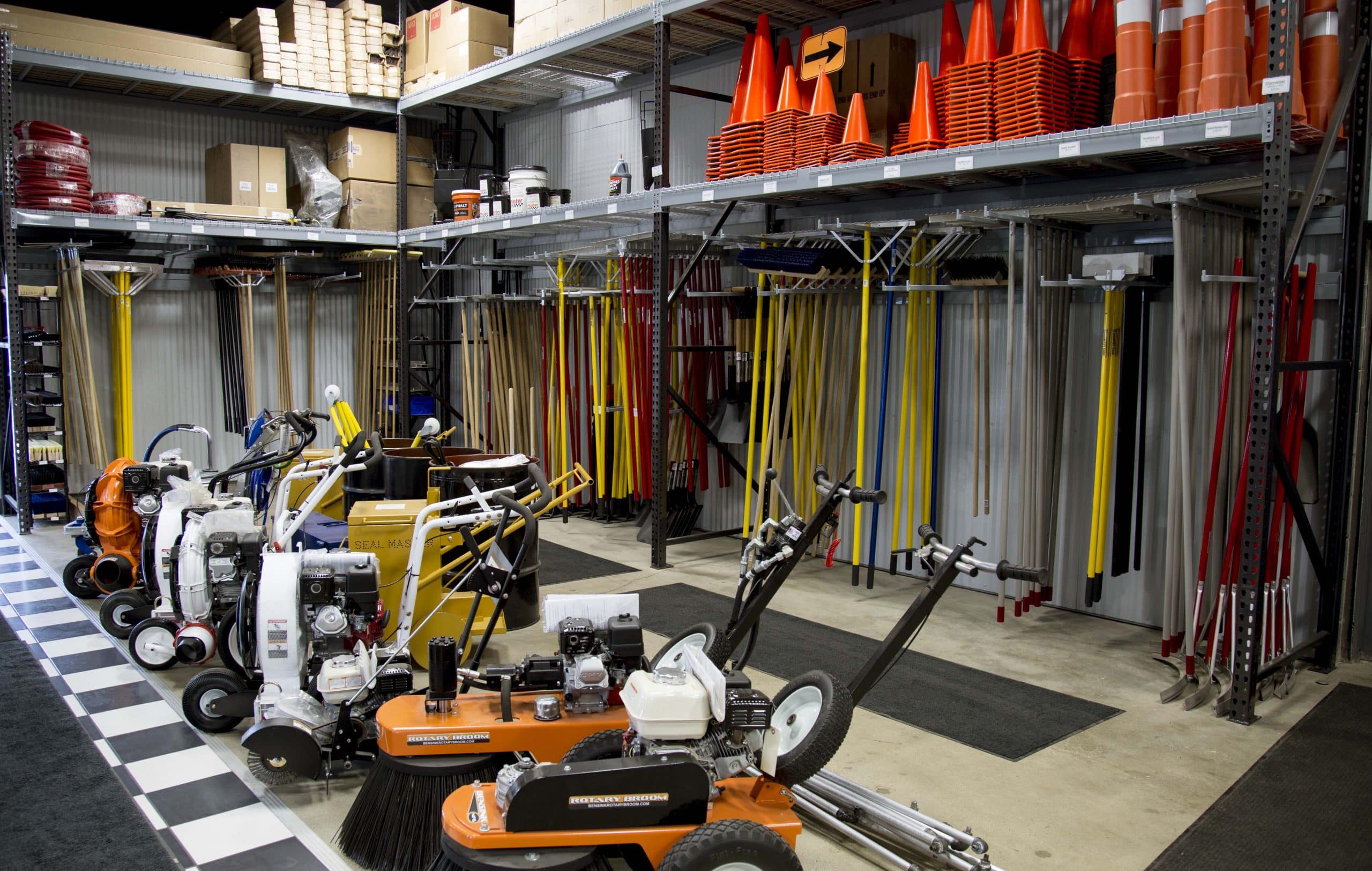 One-Stop Source for Pavement Maintenance Supplies and Equipment – Boise, Idaho – SealMaster, a leading global supplier of pavement maintenance supplies and equipment, has opened a manufacturing plant, distribution center, and retail showroom at 6438 S. Supply Way in Boise, Idaho. After purchasing the rights to the SealMaster franchise territory that serves all of Idaho, third-generation Boise native Kevin McEntee opened for business in June. His location is among more than 100 privately owned SealMaster manufacturing and/or distribution sites nationwide.
SealMaster franchise owners manufacture pavement sealer and distribute a full line of pavement maintenance products and equipment, including crack sealants, pavement repair materials, traffic paints, dust suppressants, tools, accessories, sport surfacing products, and machines to apply all the materials. Franchises also drop off and pick up job-site sealer tanks and rent and service equipment. The brand is widely known for introducing franchising to pavement maintenance sourcing by standardizing quality, support, services, and practices that "transformed an ugly duckling industry into a swan," according to Pavement Maintenance & Reconstruction magazine.
SealMaster products are used on roads, parking lots, airport pavements, park pathways, highway shoulders, and other pavements. Customers include public agencies responsible for maintaining their communities' pavements, private and public property owners and institutions, and pavement maintenance contractors, among others.
With his sights set on owning a business he could establish and operate in Boise, McEntee researched a number of entrepreneurial opportunities. After several meetings with SealMaster franchise representatives, he determined a SealMaster franchise was the perfect fit for Idaho. "I researched the pavement maintenance and preservation market for two years and saw how so many contractors were related, directly or indirectly, with pavement maintenance."
Having the business based in Boise was a critical point for the third generation Idahoan. "It's an important place to me and I love the idea of supplying locally produced products," he says. "In search for consistency and quality, many contractors are sourcing products from all over the Western U.S.   We look forward to becoming a local solution for them.   Also, I look forward to becoming involved in a variety of community causes and providing cost-saving solutions to our Idaho municipalities and school districts."
McEntee says Idaho road maintenance agencies are in step with the nationwide trend of preserving paved assets. "When people have available quality, consistent products that perform well, it's an extremely good value to preserve pavement""a substantial capital asset," he asserts. "Idaho's harsh winters really underscore that strategy. It's the approach of protecting investments and increasing the service life of asphalt."
SealMaster's leadership in the pavement maintenance industry is important to McEntee, he says, noting he wanted to be associated with a highly regarded national brand. "We have high quality products, scale, and service that make it easier for our customers to do business with us," he says. Liquid Road, for instance, is a bituminous surface treatment that lasts three times longer than traditional sealcoat. It is viewed more as a capital investment than a maintenance expense."
"One size does not fit all when it comes to pavement maintenance and preservation," McEntee notes. The condition of the pavement indicates what's needed to preserve it and when that should occur, he says. It's more cost-effective to keep good pavement in good condition rather than to allow it to deteriorate, McEntee asserts. "Costs to repair and replace pavement in bad condition are six to 10 times more expensive than routine maintenance, which can extend the useful life of pavement by decades," he says.
With the SealMaster manufacturing plant and distribution center up and running, McEntee says, "I'm very excited to be a part of the business community. We now employ six people and as we grow, we'll create more jobs throughout the state." McEntee also notes SealMaster is known for helping contractors grow their businesses. Their contributions to the economy and job creation make our communities that much stronger, he says.
For more information, call 800-395-7325 or visit SealMaster.net.
ABOUT SEALMASTER
SealMaster, the nation's One-Stop Source for pavement maintenance products and equipment with retail presence, is the world's leading manufacturer of pavement sealer with more than 100 locations in the United States, including Puerto Rico; licensed manufacturing in Canada, China, and Mexico; and distribution in more than 50 countries. The company maintains its industry leadership consistently introducing high-performance, innovative pavement sealer formulations and state-of-the-art manufacturing technologies. Pavement maintenance professionals, property managers and owners, municipalities and others charged with pavement maintenance use SealMaster products and equipment to protect, preserve and beautify asphalt and concrete pavement. For more information, visit sealmaster.net.