SealMaster at CONEXPO 2017
As a leading global supplier of pavement maintenance products and equipment, SealMaster® will exhibit at CONEXPO Booth C30048. Associates will be on hand to discuss SealMaster equipment and new pavement repair, sealer and color technologies and how they advance safety and sustainability in pavement maintenance and preservation.
On the show floor will be SealMaster's CrackPro Heated Hose Machine®, TR300 Heated Asphalt Distributor, and SprayMaster™ TR575 Pro Air sealcoat applicator.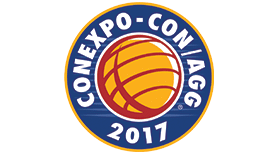 We'll see you at CONEXPO!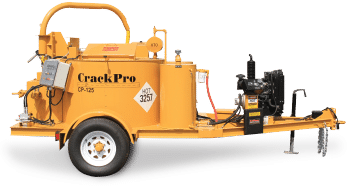 CrackPro Melter-Applicator
The CrackPro Heated Hose Machine features and oil-jacketed melter-applicator for hot rubberized asphalt crack sealing materials. With 1.5-inch ceramic insulation and a 16-gauge steel body CrackPro Heated Hose Machines are available with 125- and 260-gallon material capacities.
CrackPro delivers the industry's fastest heat-up time, largest air compressor and lowest profile for maximum operator safety. Standard features include digital control center with protective cover; AC gauge to monitor heating of 18-foot, ¾-inch electric hose (22-foot hose also available); 16 x 24-inch anti-splash material loading hatch; electro-hydraulic manifold with flow control for (2-inch steel gear, reversible) pump and mixer speeds; liquid cooled 14.5 and 21.5 horsepower engines (DA model with air compressor features a 33.5 horsepower Kubota Engine); electrically controlled, bottom-fired, forced air, diesel-fired Beckett Burners with auto shutoff; and direct-drive, forward and reverse full-sweep hydraulically driven agitation.
Suspension features a torsion type axle with five-lug tubeless tire. In additional to a larger engine, CrackPro DA models feature direct-drive, 100-CFM air compressors; and 100-foot, 5/8-inch reeled hose and wand.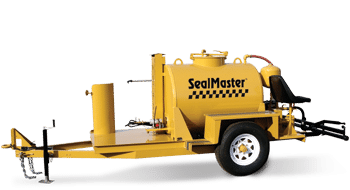 SealMaster Heated Asphalt Distributor
Available with 300- and 575-gallon material capacities, SealMaster's Heated Asphalt Distributors feature a 5.5 horsepower Honda engine, 6,000 lb. axles, 50-foot hose and spray wand, electric brakes with safety break-away system, positive displacement material pump, 300,000 BTU vapor heat system with safety shut-off, 5-gallon diesel wash-down system, and lockdown lid with breather vent. Options include a 10-foot-spray-width manual spray bar with seat and mounting components, and Hatz diesel engine.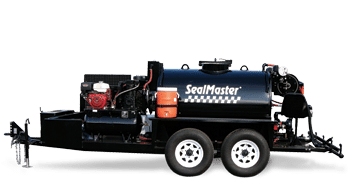 SprayMaster TR575 Pro Air Sealcoat Applicator
SealMaster's SprayMaster TR575 Pro Air sealcoat applicator, with 575- and 750-gallon material capacity, features a 13-horsepower Honda engine, 30.0 SCFM air compressor, direct-drive forward and reverse agitator, 1 ½-inch dual diaphragm material pump, 75-foot hose and spray wand, two 6,000 lb. axles with electric brakes (and safety break-away system), running lights and brake lights, and a 1-gallon basket strainer. Options include an 88-inch manual spray bar, which includes a seat and mounting components; hydraulically driven SandPumper II material pump/spray bar system; a 2-inch air diaphragm pump; squeegee drag box assembly; electric and hand-operated hose reels; 50-gallon water tank, mounting kit and pump; night work lights; 40-inch brush water box; storage deck; and water cooler.